🇬🇧 FOR ENGLISH, PLEASE SCROLL DOWN ↓ (a bit) 
Groove Cooking - Jump into the GROOVE
Fr. 03. Januar - So. 05. Januar 2020
in Hamburg
In diesem Workshop gibt es kein Stück zum "Mit nach Hause nehmen". Stattdessen ist der Fokus des Workshops "Groove Taiko", also Basics-Übungen im Kion-Trommelstil, mit seinen lockeren und körpergerechten Bewegungen, die nicht nur mehr Ausdauer beim Trommeln ermöglichen können, sondern auch einen anderen Klang und Ausdruck an der Taiko zur Folge haben!
"Trockene Technik-Übungen", falls man es so empfinden könnte, werden aber nur einen Teil des Workshops ausmachen. Viel wichtiger als die "perfekte Technik" zu entwickeln, ist ein gewisses Körpergefühl für den Groove zu entwicklen und die Interaktion der Trommler untereinander. Also, der Spaß, der im Moment des freien Trommelns miteinander entsteht wird einen großen Teil dieses Workshops ausmachen und ist typisch für GROOVE COOKING. 
Außerdem mit dabei: Improvisation, Sessions, kleine Performances...
Teilnehmer: Alle, die offen für ein "anderes" Taiko sind und ab 1-2 Jahre Erfahrung im Trommeln mitbringen. Auch für fortgeschrittene Trommler gibt es in diesem Workshop interessante Herausforderungen.
Voraussichtlicher Workshopablauf
| | |
| --- | --- |
| Fr. 03.01. |   |
| 14:00-16:00 | Groove Taiko Basics |
| 17:00-20:00 | Session 1 |
| Sa. 04.01. |   |
| 10:00-13:00 | Beats & Accents 1 |
| 14:00-17:00 | Beats & Accents 2 |
| 17:30-18:30 | Mini-Performances |
| So. 05.01. |   |
| 10:00-11:00 | Good morning drumming |
| 11:00-13:00 | Final Session |
Kosten
Teilnahmegebühr normal: 140€
Frühbucherrabatt bei Anmeldung und Zahlung bis 30.09.2019: 120€
Zahlbar innerhalb von 4 Wochen nach der Anmeldung. Wenn der Betrag bis dahin nicht überwiesen wird, wird der Teilnahmeplatz wieder freigegeben.
Stornierungsbedingungen
Nach dem 18.12.2019 gilt eine Stornierungsgebühr von 25% des Workshoppreises. Bei Absage ab 1 Tag vor Workshopbeginn oder Nichterscheinen gilt 100% Stornierungsgebühr.
Leitung: Ingmar Kikat
Ingmar lernte zunächst klassisches Schlagzeug und war in Bands und Jugendorchestern aktiv. Auf seiner ersten Japan-Reise 1998 kam er mit Taiko in Berührung, ab 2001 begann er gemeinsam mit der ersten Hamburger Taiko-Gruppe Tengu Daiko, Taiko in Norddeutschland bekannter zu machen.
Nach einem längeren Japan-Aufenthalt 2004-2005 bei Tawoo Dojo & GOCOO in Tokyo gründete Ingmar 2006 seine eigene Taiko-Schule Kion Dojo.
Über Hamburg und Deutschland hinaus hat ihn sein Unterricht schon nach Großbritannien, Ungarn und die Schweiz geführt.
Taiko faszinierte Ingmar schon früh, da es so vielfältige Herausforderungen bietet und Menschen zusammenbringt.
---
↓ English ↓
Groove Cooking - Jump into the GROOVE
Fr January 3rd - Su January 5th 2020
in Hamburg
In this workshop there won't be a piece "to take back home". Instead, the focus of this workshop is "groove taiko". This means taiko drills about the "Kion style", with it's relaxed technique and body friendly movements. This can not only result in more endurance while playing the taiko, but also in a different sound and expression!
In case you worry that this workshop is only about "dull technique", don't worry! Much more important than "perfect technique" is getting a feeling for the groove in your body and also interacting with each other as drummers and as humans. The fun that happens in the moment while you drum freely is typical for GROOVE COOKING and it will be a big part of the workshop.
Also in this workshop: Improvisation, jam sessions, small performances...
Participants: Anybody who is open towards a "different" kind of taiko and who has 1-2 years of experience in drumming. Also more experienced drummers will find interesting challenges in this workshop!
DRAFT WORKSHOP PLAN
Workshop plan Draft
| | |
| --- | --- |
| Fr. 03.01. |   |
| 14:00-16:00 | Groove Taiko Basics |
| 17:00-20:00 | Session 1 |
| Sa. 04.01. |   |
| 10:00-13:00 | Beats & Accents 1 |
| 14:00-17:00 | Beats & Accents 2 |
| 17:30-18:30 | Mini Performances |
| So. 05.01. |   |
| 10:00-11:00 | Good morning drumming |
| 11:00-13:00 | Final Session |
Fee
Workshop fee
Normal fee: 140€
Early bookers (register and pay until September 30): 120€
Please pay within 4 weeks after registering. If we don't receive your payment your spot might be given to someone else.
Cancellation
After December 18th the cancellation fee is 25%. If you cancel 1 day before the workshop or later, the cancellation fee is 100%.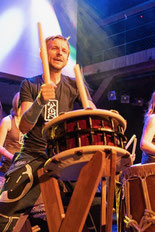 Workshop leader: Ingmar Kikat
Ingmar first started with learning classical percussion and was a member of rock bands and youth orchestras. On his first trip to Japan in 1998 he got in touch with taiko for the first time. From 2001 he began spreading taiko in northern Germany with the first taiko group from Hamburg, Tengu Daiko.
After living in Japan 2004-2005 and studying with Tawoo Dojo & GOCOO in Tokyo, Ingmar founded his own school Kion Dojo in 2006.
Besides teaching in Hamburg and in Germany, Ingmar has also been giving workshops in the UK, Hungary and Switzerland.
Taiko fascinated Ingmar from early on, because it is challenging on various levels and it brings people together!