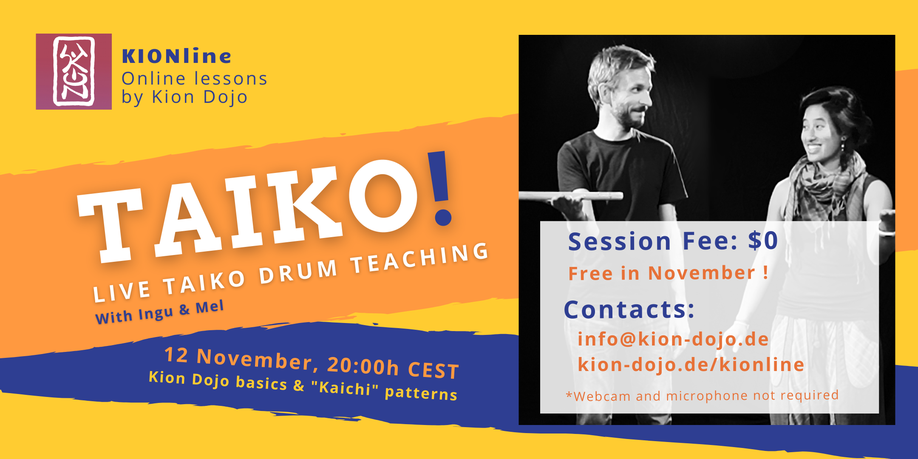 Join this live teaching session with Ingmar (Kion Dojo) and Mel from the Taiko Bastards. Grab your bachi (taiko sticks) and some surface to play on (a drum if available) and learn about a way of playing taiko, that is relaxed, flowing and grooving! Broadcasted live from the Soundhafen Studios in Hamburg/Germany, these sessions explore new ways of learning taiko in pandemic times and beyond.
In this second livestream we will dig further into Ingmar's piece Kaichi and will learn new patterns for the piece!
Language is English (with some German thrown in here and there).
All of the November sessions are free for everyone to try out! You must register through eventbrite to take part!
Session software is Whereby. 30 minutes before the class starts, you will receive a room link through the eventbrite e-mail system. Please check your spam folder! You don't need a webcam or mic to take part!
More info:
Ingmar (Ingu) Kikat has been playing and teaching taiko for twenty years. His school Kion Dojo in Hamburg has been playing a vital role in spreading melodic and groovy taiko, inspired by the great Kaoly Asano from GOCOO/Tokyo, throughout Germany and Europe. As a sought after workshop leader and a member of the new unheard of project Taiko Bastards, he brings taiko drumming to the next level. In this session he will be teaching Melski, another "Bastard" and taiko maniac, as a role model for all other participants in how to groove and flow on the taiko!
Thu, 12 November
Hamburg: 20:00-21:30
London: 19:00-20:30
New York: 14:00-15:30
Chicago: 13:00-14:30
Los Angeles: 11:00-12:30
Tokyo: Fr 2020/11/06, 04:00-05:30